Magic abounds and nothing is as it seems in this new YA series
Elaria is a kingdom held together by magic. The Great War once divided their people, but the strife has long since passed, and the kingdom has rebuilt the best they can.
Despite the claims of peace, however, there is unrest ridden deep in the roots of Elaria, threatening to crumble it. Desperate princes and scarred advisors. Trapped daughters and evil stepmothers. Bloodthirsty sirens, outlawed fairies, ruthless pirates, forceful rebels, corrupt councilmen, and lawless criminals. Girls with long, tousled hair and vacant eyes, and others with saltwater veins and bared teeth. Boys with bloody pasts and murky futures; men willing to do whatever it takes to maintain their legacies. Children that fall into rabbit holes and are lost forever. Age-old vendettas and fresh betrayals that threaten and ache at every turn, and streets that reek of the struggle for power. Wronged monsters who will stop at nothing to get their revenge, and faceless rivals that hide in the depths, waiting for the perfect moment to strike.
Yes, Elaria is a kingdom held together by magic. But magic may not be enough to save them all.
SECOND BOOK IN THE SERIES IS NOW AVAILABLE
CRACKS IN THE TOWER
by Emilee King
A Fiction Vortex Series
Once upon a time there was a girl with tousled hair and vacant eyes, who found the tallest tower and locked herself inside.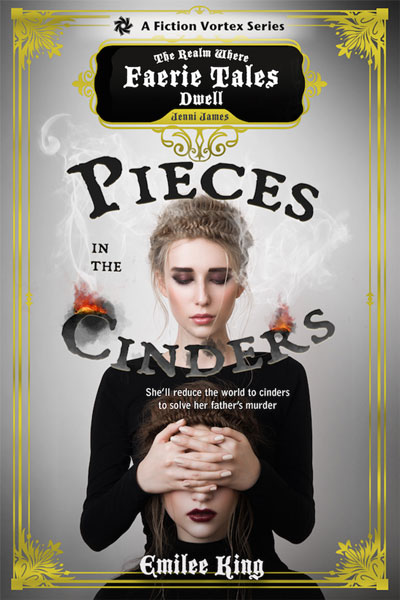 PIECES IN THE CINDERS
by Emilee King
A Fiction Vortex Series
She'll reduce the world to cinders to solve her father's murder