She'll reduce the world to cinders to solve her father's murder.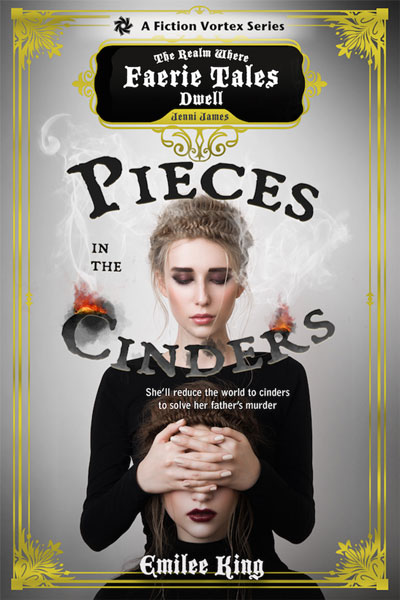 PIECES IN THE CINDERS
Fairy tales collide in this explosive new YA retelling by Emilee King. When Stella discovers the truth about her father's death, she'll stop at nothing to bring his killer to justice—even if the murderer is her own stepmother.
Once upon a time there was a girl who slept by the hearth in the ashes, waiting for her chance to catch fire and burn.
Ever since Stella's father died of an illness on a merchant trip, her life has been nothing but loneliness and misery, made even worse by her resentful stepmother, Natalia, who ignores her unless there are chores to be done. Stella dreams of escaping with her best friend Izzy—who has problems of her own—to explore the kingdom of Elaria. Her plans screech to a halt, however, when she overhears Natalia talking to a royal guard about a murder investigation: her father's. Suddenly, everything Stella has ever known about her life breaks into pieces of carefully constructed lies.
Determined to prove her stepmother guilty, Stella teams up with Izzy and a few new allies to find her missing godmother and discover the truth—no matter the cost.
---
Excerpt:
"Look, Iz," Stella broke the silence, the extra fire out of her system now that she'd had a moment to cool down. "I'm not sure what Natalia is mixed up in, but I know it's something. I can feel it. And I have to figure it out. If it has anything to do with my father's death—or the fact that his money dried up as soon as he was gone and we plunged headfirst into peasant life—then I have to make it right. I owe it to him to find the truth, no matter what."
"I know." Izzy pulled the locket from one side of the chain to the other, back and forth, lost in thought. "But if…Natalia…if she finds out what we're doing…she'll be livid."
Stella breathed a silent sigh of relief that Izzy was still on her side. "That's why we'll be sneaky about it. She hardly pays attention to us anyway."
"If they just closed the investigation, she's not going to want us poking around. Digging stuff up."
"Exactly. She thinks she's in the clear. It's the perfect time to gain the upperhand."
Finally, Izzy tore her eyes away from the scenery and gazed at Stella. "And what if we do? What if you're right? And we…she thinks she's cleared and we…ruin it. She would come after us." She shuddered softly. "She would be so angry. What do we do then?"
Stella jerked out her chin with resolve, refusing to be shaken by the idea of Natalia's venomous wrath. "Then we will pack up and run, and she'll never hurt us again."
I honestly couldn't put it down!

Once I got the book I honestly couldn't put it down. I find Emilee's books inspiring and this one was no exception. I can't wait for the next book in the series!
Riveting!

Riveting, action-packed,
and full of adventure and surprises.
A must read!

It's a unique and gritty (but not excessively so) take on an old classic. Definitely not your grandmother's Cinderella.

EMILEE KING
YA AUTHOR
Emilee King really loves to write fictional stories, she really hates to write biographies. All you need to know is she collects Sharpies, belongs in the Slytherin house, and will be on Team Cap forever. She lives in [LOCATION BLOCKED] with her laptop, where she writes, binges Netflix, and does secret agent work on the side (obviously).
Read twenty random facts about Emilee
Follow: