Hey guys! I've some super exciting news to share: I'm releasing a new novella this month!
novella: noun 

 no·vel·la 

 
a story that is longer than a short story but shorter than a novel
I've been working on this story for awhile, and I'm thrilled that I finally get to share it with all of you. Though this story does take place in Arie's world, it's not about Arie, and I'll admit that it was strange to write through someone besides her. However, over the course of this project I've seen a whole new side of this series and have truly fallen in love with these characters–especially my new protagonist, Leslie.
I hope you love her as much as I do. I've learned so much through her and the cast that comes with her, and I feel they add so much to this series.
To celebrate the anniversary of the release of my first novel, Surviving on a Whisper, The Kids Aren't All Right will be released in paperback and ebook form on October 20, 2016.
Not every story has a happy ending, but every story deserves to be told.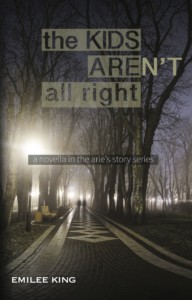 Meet Leslie.
She's a junior in high school out to make a reputation for herself that doesn't revolve around her last name. After all, her mom is the most successful district attorney in the state, her older brother Peter is a star football player set on the fast track for scholarships, and her dad owns the biggest car dealership in town with eyes only for his son's college ball. Leslie's learned the hard way that most people—besides her best friends Amanda and Chet—want to be her friend for two reasons: money or Peter.
Leslie's sick of the politics and superficiality that comes with the world she lives in, and she's eager to leave it all behind. Just one more year and then she can get out of her suffocatingly huge home, go to a community college out of state, and work on her art, even though her mom would rather die than send her daughter anywhere other than Yale. Leslie feels trapped—trapped by her mom, trapped by her arrogant brother and his spiteful girlfriend, and trapped by society. She just wishes that something would change.
But then she gets caught in the middle of an act of revenge gone wrong, throwing her menial life into chaos.
Now Leslie is infected. And now, whether she wants it or not, everything will change.
You know Arie. Now see a new side of the infected world told through the eyes of a girl whose story is altered by one tragic event, forever changing the one closest to her.
Keep your head, Peter. You're gonna be all right.
Follow me on Facebook (Emilee King Author) and Instagram (@emtheauthor) to stay updated on exciting news.