infected [in-fekt-ed] noun
a person that has been given a specific formula that subtly alters biological aspects. The formula was created centuries ago by a man named Philo Castor, and he has generated many cult followings in the years since his death in 1352 C.E.
Only she knows that she's the one he's looking for.
Begin the journey of Arie's Story: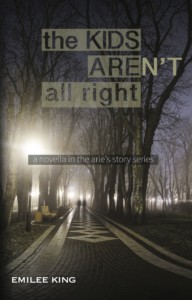 THE KIDS AREN'T ALL RIGHT
A Novella in the Arie's Story Series
Not every story has a happy ending, but every story deserves to be told.
Meet Leslie. She's a junior in high school out to make a reputation for herself that doesn't revolve around her last name. After all, her mom is the most successful district attorney in the state, her older brother Peter is a star football player set on the fast track for scholarships, and her dad owns the biggest car dealership in town with eyes only for his son's college ball. Leslie's learned the hard way that most people—besides her best friends Amanda and Chet—want to be her friend for two reasons: money or Peter.
Leslie's sick of the politics and superficiality that comes with the world she lives in, and she's eager to leave it all behind. Just one more year and then she can get out of her suffocatingly huge home, go to a community college out of state, and work on her art, even though her mom would rather die than send her daughter anywhere other than Yale. Leslie feels trapped—trapped by her mom, trapped by her arrogant brother and his spiteful girlfriend, and trapped by society. She just wishes that something would change.
But then she gets caught in the middle of an act of revenge gone wrong, throwing her menial life into chaos. READ MORE
Life goes on. At least it's supposed to. These days, Arie isn't so sure.
She finally managed to escape Dalton's grasp and find her way back to her makeshift family, but eight months is a long time to be away from home—Arie returns to find that the world kept on turning while she was gone. Alexis has been busy since Arie's secret got out and she realizes that she'll have to work harder than ever to keep the key away from him.
But Alexis isn't the only problem. Dalton's threat hangs over Arie, dictating her every move, which nobody else seems to understand. And when a sinister assassin begins tracking her down, Arie knows it's only a matter of time before someone she loves gets hurt again. So the question remains: should she leave in an effort to keep her family safe or stay with those she loves to help them survive?
As danger closes in from all sides, Arie realizes more and more that she's not who she used to be. Survival comes at a cost, a cost that changes people, a cost that changed Arie more than she's willing to admit. But there's something else lurking in the corners of her mind that's threatening to take control. Her fight against the clock—against her engrained powers as the key—is nearly up. READ MORE

EMILEE KING
YA AUTHOR
Emilee King really loves to write fictional stories, she really hates to write biographies. All you need to know is she collects Sharpies, belongs in the Slytherin house, and will be on Team Cap forever. She lives in [LOCATION BLOCKED] with her laptop, where she writes, binges Netflix, and does secret agent work on the side (obviously).
Read twenty random facts about Emilee
Follow: